There's a bad old joke that goes somewhat as follows:
A Native American chief is tasked with buying toilet roll for his village – he goes to the local store and asks for the options.
"Well, there are three options," says the clerk. "White Cloud, Cotton Mist and Economy."
"How much is White Cloud", asks the Chief, "That sounds like a good toilet paper".
"2 dollars a roll".
"That's too much for the whole village, what about Cotton Mist?"
"1 dollar a roll."
"Still too much! What about economy?"
"50 cents a roll."
"Ok, but why does it not have a nice name, why is it just economy?"
"It just is, it's too basic to have a name."

Several weeks pass until the Chief returns to the store to re-stock. He approaches the Clerk. "I have a name for your economy roll" he says.
"Ok" replies the Clerk, "What is it?"
"John Wayne."
"John Wayne? Why?" "Because it's tough strong and don't take no shit off no Indian…"
Like I said, it's not a good joke but it does point to the place of John Wayne in American cinematic mythology and, especially, in the representation of masculinity. For many years Wayne's stoic image dominated the Western and the War Movie, progenitors of the modern action film. It's an image I watched on a TV as a child, in the endless re-runs of old movies back when there were only four channels in the UK. We played Cowboys and Indians in the playground with no sense of the historical truth behind the images that played across the tube. The heroics seemed simple and accessible; moving up to the films of Schwarzenegger and Stallone wasn't difficult. The settings had changed, but the simple morality seemed the same. There were good guys and bad guys and the good guys won because they were better in every sense.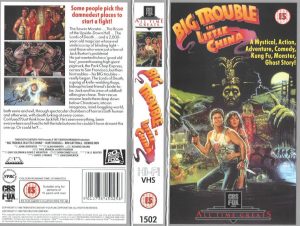 And then came Big Trouble in Little China. It sure looked from the VHS cover like a typical film. There was Kurt Russell, all muscles, gun held aloft as Kim Cattrall lay seductively at his feet. So, the Chinese theme seemed a little different but, like swapping Native Americans for Latin American drug dealers in so many other films, the ethnicity of the bad guys never really mattered (as long as they were thoroughly Othered from the hero). The black tape was pushed into the VHS player, the familiar click and whirr followed by the fuzzy lines on the TV. And then… something completely different unfolded. I loved it then and love it now, although at the age of 10 I barely understood how clever John Carpenter's film is at undermining the typical conventions of the American hero.
On release Big Trouble was not a success, despite some strong reviews. Both Carpenter and Russell point to company politics undermining the film: the producers wanted something closer to Raiders of the Lost Ark (Steven Spielberg, 1981) and were unhappy with the jokey tone; the release was undermined by a last minute and poorly thought out marketing campaign which suggested a traditional heroic narrative, with a traditional hero (including lobby cards asking "Who is Jack Burton" above images of Russell who was yet to be confirmed as an above the title star).
Ironically the film had begun life as a Western, albeit one mixed with supernatural Kung-Fu elements, until Carpenter, and writer W.D. Richter, retooled it for the modern day. Ditching the Old West setting was designed to make the film more accessible, but only serves to play up its weirdness. The audience is asked to believe that within modern day San Francisco there is not only a Chinatown (reasonable), dominated by warring Kung-Fu gangs (a bit less credible), where Chinese mysticism is an everyday occurrence (now we're getting odd) and below the street is a network of tunnels where the "black blood of the earth" flows (that'll be bonkers, then). Stir in a near immortal villain (James Hong's David Lo Pan) who needs to marry a girl with green-eyes to regain his flesh, so he can then conquer the universe, three Kung-Fu masters with powers based on the weather and a red-haired monster and it starts to become clear just how odd this is for a studio produced film. Also, did I mention the flying eyeball?
All of this spectacle was entrancing to my ten-year-old eyes – it was my first Kung-Fu movie and helped inculcate a delight in the genre that remains today. But as an adult what stands out is Russell's performance as nominal hero Jack Burton. Through the movie Russell's performance, and Carpenter's direction, deconstruct the myth of the American hero, turning Burton into, what Carpenter later described in a DVD extra, as
"John Wayne without a clue."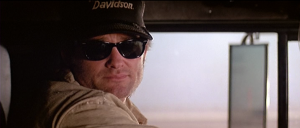 A prologue, filmed at the studio's behest after they became nervous of Russell's performance, only serves to build up his character, making the reality even funnier. Chinese mystic Egg Shen (Victor Wong) tells a lawyer that the world "owes a debt of gratitude to Jack Burton", before we cut straight to Burton's truck in which he, between mouthfuls of sandwich, speaks ridiculous platitudes to his CB radio:
When some wild-eyed, eight-foot-tall maniac grabs your neck, taps the back of your favourite head up against the barroom wall, and he looks you crooked in the eye and he asks you if ya paid your dues, you just stare that big sucker right back in the eye, and you remember what ol' Jack Burton always says at a time like that:"Have ya paid your dues, Jack?" "Yessir, the check is in the mail."
Burton looks like the hero but the dark glasses he wears while driving at night and in the rain point to his lack of understanding; this is a man literally driving blind, which he remains throughout the story. His appearance is further undermined by the ridiculously high legged boots he wears throughout.
As the film progresses it becomes evident that the man who's supposed to carry the film is actually the sidekick, with Dennis Dunn's Wang Chi emerging as the film's real hero (he even wears a hat that looks very similar to Indiana Jones' fedora). Burton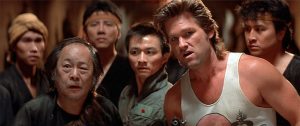 is a bull-shitting protagonist with no idea what's going on, blundering into an Asian culture and presuming that everyone there will simply bow down to him and his bluster (shades of Vietnam?). Wang is his friend and allows Burton to tag along in attempts to rescue Wang's betrothed Miao Yin (Suzee Pai) but it's extraordinary how useless Burton is, and how little he realises it. Indeed, it's his posturing at the airport that creates the sequence of events that lead to Miao Yin's kidnapping – if he hadn't gone with Wang perhaps none of this would have occurred…
As the film develops Burton's ignorance and borderline racist attitudes are constantly undermined and exposed. He insists on calling people's head-bands "Turbans" and his ignorance of Chinese culture and tradition expose him, as opposed to a more typical action film in which the hero would happily ride roughshod over the locals (who, a lá John Wayne's The Green Berets (John Wayne, 1968), would be so happy for the American to help). Burton is captured, beaten up and, in one glorious comic moment, manages to miss most of the final battle-royale by knocking himself out following his own macho posturing. All he really has to offer is bluster while Wang and Egg Shen go about defeating the forces of evil. Despite the physical image that Russell casts in the marketing he can barely operate a gun and is visibly shaken when he first kills someone. When, disguised in plaid jacket and glasses, Burton attempts to gain information by visiting a brothel he's shown to be fairly useless there too, undermining the heterosexual vitality that is a given of most movie heroes. Of course, he still gets the requisite romance, but even that doesn't run to expectation.
Maybe the film's real secret is that it's not just an action film or a mystical Kung-Fu epic, it's also a screwball comedy. It's well-known that Carpenter is a fan of Howard Hawks (Assault on Precinct 13 (1976) riffs directly on Rio Bravo (1959)) but it's Bringing Up Baby (1938) and His Girl Friday (1940) that are the more pertinent influences here as Burton and Cattrall's Gracie Law snap at each other throughout, with Cattrall usually gaining the upper hand. Their romance further defuses Burton's machismo, no more so than when he faces Lo Pan smeared in lip-stick from a recent kiss. His final rejection of her speaks to the risks of a relationship in which he would no longer be able to buy his own bull-shit; the strong woman must be avoided because she'll keep bringing him back down to earth.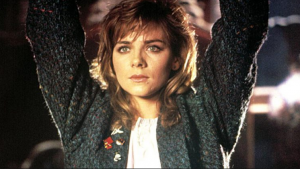 On release some claimed the film to a be an exercise in stereotypes, Roger Ebert making comparisons to Charlie Chan and Fu Manchu. Big Trouble in Little China certainly has its issues, but I think those comparisons are unfair. The film was made with a reverence for 1970s Kung-Fu movies, like Zu: Warriors from the Magic Mountain, and makes few concessions to the American relocation or present-day setting. Clichés are employed, but in a knowing way. Compare it to the Eddie Murphy vehicle The Golden Child released in the same year (also casting James Hong and Victor Wong in supporting roles) in which the Chinese characters are side-lined and the main love interest, of supposedly Tibetan descent, is played by an actress of English, Irish, Chilean and Iranian ethnicity.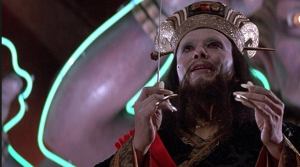 Of course, Big Trouble's big trick is the inversion of the usual Hollywood power relationships, with the white American male rendered impotent throughout, as opposed to, for example, Indiana Jones and the Temple of Doom which, two years earlier in 1984, reinforced all the old stereotypes about white heroes helping the locals who can't help themselves. Watch the two back to back and you can notice how Carpenter and Russell undermine many of the clichés that Spielberg embraced (Ebert, by the way, gave Temple of Doom five stars and neglected to question its representations). One suspects that if Jack Burton had never turned up in Chinatown the narrative would resolve quite happily without him, as the Chinese characters are shown to be knowledgeable and capable throughout. That some people complained that Burton wasn't much of a hero managed both to get the point and miss it completely.
The ending of the film imitates Wayne's greatest Western The Searchers (John Ford, 1956). The hero leaves society behind knowing he'll never fit in. But whereas Wayne departs a mythic figure held in silhouette against the never-ending backdrop of the Old West, Burton turns back and shows a brief flicker of recognition, a moment of self-reflection announcing that it's because "sooner or later I rub everybody up the wrong way" that he can't make common cause with Gracie. For a moment a human face replaces the smirking bravado, but it's soon gone and then he's back in the truck espousing bullshit.
Like so many of Carpenter's films, a mainstream audience initially eschewed the film only for it to find a large cult following. But it deserves more than that, it deserves to be recognised as an innovative film splicing together disparate genres and having the courage to satirise its own, supposed, hero. From a decade of by the numbers action films Big Trouble in Little China stands out as something truly different. After 30 years the film still offers the same delight, but I now realise how smart the film always was. It takes direct aim at the idea of the white saviour taming the uncivilised savages and exposes him as an ignorant boor well out of his depth. Even more perhaps, it suggests that he might not even be needed.
Works Cited
Ebert, Roger (1984) Indiana Jones and the Temple of Doom. RogerEbert.com [online] Available from https://www.rogerebert.com/reviews/indiana-jones-and-the-temple-of-doom-1984 [accessed 27 September 2018]
Ebert, Roger (1986) Big Trouble in Little China. RogerEbert.com [online] Available from https://www.rogerebert.com/reviews/big-trouble-in-little-china-1986 [accessed 27 September 2018]